Welcome to Bowling Park!
MISSION – Providing recreational and community-oriented services for Metcalfe County and the surrounding areas.
George K. Bowling Community Park was incorporated under the laws of Kentucky as a not-for-profit corporation on October 20, 1978 for the charitable purpose of providing a recreational outlet for approximately 14,700 citizens in and around Metcalfe County, Kentucky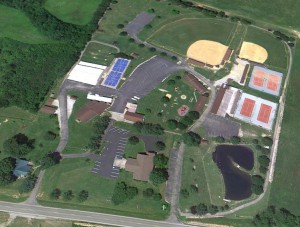 Known by the local community as "MARC Park" or "The Duck Park", Bowling Park is an active participant in Metcalfe County. Bowling Park hosts the annual Easter Egg hunt, Bluegrass Bash, the 4th of July fireworks, the annual Christmas lights display and tractor rides, Men's baseball, Women's softball, the running club, Relay for Life, and so many more activities that it would be difficult to list.
The main park grounds include:
A fully-equipped playground
Duck pond
100′ x 100′ gymnasium with basketball courts, fully equipped fitness center, locker rooms, concessions, and conference room
Two (2) ball fileds with bleachers, dug-outs, and scorekeepers loft
Recreational building with concessions
Two (2) 80′ x 40′ outside basketball courts
Double tennis courts with backboards and spectator seating
Double volleyball courts
Paved fitness walking trail
65′ x 30′ pavilion with picnic tables, bathrooms, and barbecue grill
Two (2) 14′ x 22′ pavilions with picnic tables and barbecue grills.
Large pavilion with stage
Programs and facilities for the needy (including a homeless shelter and a food pantry)
Historic house built in the 1800s for community and group meetings by reservation only
The park hosts annual events, such as an Easter egg hunt, Fourth of July celebration, and a Christmas basket program for the needy.
The park's gymnasium contains a fully-equipped fitness center, which is available 24 hours a day / 7 days a week with membership. There are basketball courts, locker rooms, and a concession room with full kitchen. The gymnasium and it amenities are available for rent for parties, dances, and other events.
The Community Hall, located on West Stockton Street, across from McDonald's and IGA, provides weekly Bingo games.
New to the park is "Leftwich Hall", which is a banquet hall equipped with a full kitchen, large tables, and catering is available. There is a separate room with a large-screen television — perfect for presentations or simply for relaxing during a family gathering. The hall is available by reservation only.
Over the years, Bowling Park has been home to many civic organizations, such as Hospice, Farmers' Market, Legal Aid, Scouts, and various educational programs. Please feel free to contact us with any questions or comments.